6月23日のレクチャーの録画を、8月31日までの間、限定公開します。日本語版のみで、残念ながら英語同時通訳は公開できませんが、ライブで見逃した方、もう一回見たい方、是非ご覧ください。
*映像のダウンロード、スクリーンショットは固くお断りいたします。
*この映像は、GAPのWebsiteからのみ閲覧可能です。他の方にご紹介される場合は、GAPのWebsiteの該当ページ自体をご紹介ください。
A recording of the June 23rd lecture, in Japanese version only, is available for limited viewing until August 31st. Unfortunately, the English simultaneous interpretation is not be available, but if you missed it live or would like to watch it again in Japanese, please do so.
Downloading or screenshotting of the video is strictly prohibited.
This video can only be viewed on the GAP website. If you wish to introduce this video to others, please introduce the relevant page on the GAP website itself.
Online Special Open Lecture 
"From Solo Camping to Beautiful Forestry: "I Want to Do Forestry! "
オンライン特別講演会
"ソロキャンプから美しい林業へ:「俺、林業やりたいんです!」"
Date : Thursday, June 23, 2022, 18:00-19:30 (JST)
日時:2022年6月23日(木)18:00-19:30 (日本時間)
Venue : Online via Zoom. No registration is required.
会場:ZOOMによるオンライン開催(予約不要)
Guest:JINNOUCHI Takeshi (Lumberjack, Representative of Kikori Builders)
講師:陣内雄(木こり、木こりビルダーズ代表、森と街のがっこう校長)

Zoom link : https://us02web.zoom.us/j/88987721891?pwd=WkVMVmdheUpTUGVZNlgyYSs1VjJaZz09
Meeting ID: 889 8772 1891
Pass Code: 644414

*Please note that the lecture will be recorded for archival purposes.
This archive may be open to the public.

*アーカイヴとして録画録音を行いますのでご了承ください。このアーカイヴは後日公開される場合があります。
Language: Japanese (with simultaneous interpretations in English)
使用言語:日本語(英語の同時通訳あり)
We invite you to a special lecture by JINNOUCHI Takeshi, organized by the LEE Mina Lab of Global Art Practice (GAP), collaborates with the Department of Sculpture, Department of Craft, Department of Architecture

東京藝術大学大学院美術研究科グローバルアートプラクティス専攻(GAP)李美那研究室では、美術学部彫刻科、工芸科、建築科との共催で、陣内雄氏をお招きして特別講演会を開催いたします。

Lecturer: JINNOUCHI Takeshi, (Lumberjack, Representative of Kikori Builders)
Moderator: LEE Mina, Associate Professor, Global Art Practice, Tokyo University of the Arts

講演者:陣内雄(木こり、木こりビルダーズ代表、森と街のがっこう校長)
司会進行:李美那 (GAP専攻 准教授)
Summary:
Various issues have been pointed out surrounding Japan's forestry industry, such as the stagnant price of domestic timber, neglect of forests, thinning and environmental conservation, and the relationship between climate change, natural disasters and the forestry industry. Globally, the trend is that it is impossible to have a forestry industry that ignores environmental conservation, and Japan is finally starting to move in a way that could be called a turning point for its forestry industry. The movement is a shift away from forestry simply for timber production and towards an act that links the environment, forestry, timber, and people's lives: forestry that is not just about sales, forestry that considers the very nature of the mountains, how they are maintained, and how they are used. Solo-camping, another trend that seems to have been popularized by the pandemic, has triggered a rapid spike in the number of people from younger generations turning their attention to the mountains, and this trend, which also connects people to each other, appears to be accelerating even faster.

A path is being built in the forest.
That alone brings the mountains closer to people.
The desire is to share the view.

These are the words of JINNOUNCHI, self-proclaimed "lumberjack" who has engaged in forestry since moving to Hokkaido while also a musician, and representative of the "Mori to machi no gakko (School of the Forest and the City)." He will talk about what is happening in the forestry industry today.
Two days after his lecture, on Saturday, June 25, at 3:00 p.m., he will take the ZOOM camera outdoors and broadcast from the actual forest site in Hokkaido. The same ZOOM link will be used; please join us there as well!
講演概要
国産材の価格低迷、森林放置、間伐と環境保全、気候変動や自然災害と林業の関係、など、日本の林業の問題点はさまざまに指摘され続けてきました。環境保全を無視した林業はあり得ないのが世界の潮流となっている今、日本でもようやく、林業の転換点とも言える動きが加速してきています。木材生産だけの観点から、環境と林業と木材と生活をつなぐ活動へ、売れるからオッケーじゃない林業へ、山のあり方そのもの、山の保ち方そのものを考えよう、木を使っている使われ方そのものへも目を向けよう、という動きへ。コロナ禍によって広まった感のあるソロキャンプをきっかけに、山そのものへと視線を向ける若い世代が急速に増え、日々繋がり続ける彼らの動きは思った以上に加速し続けているのだとか。

森に道がつく
それだけでヤマが人に近づく
その景色を共有したい

こう言って、「森と街のがっこう」を主宰している陣内さん。北海道に移住して林業に携わり、「木こり」と自らを呼び、ミュージシャンでもある陣内さんに、林業にいま、何が起きているのかを語っていただきます。
講演の2日後、6月25日(土)15時からは、ヤマの現場にZOOMのカメラを持ち出して、北海道のヤマから配信。森に道が作られていく現場から、実況中継します。ZOOMのリンクは同じです。こちらも、どうぞご参加ください。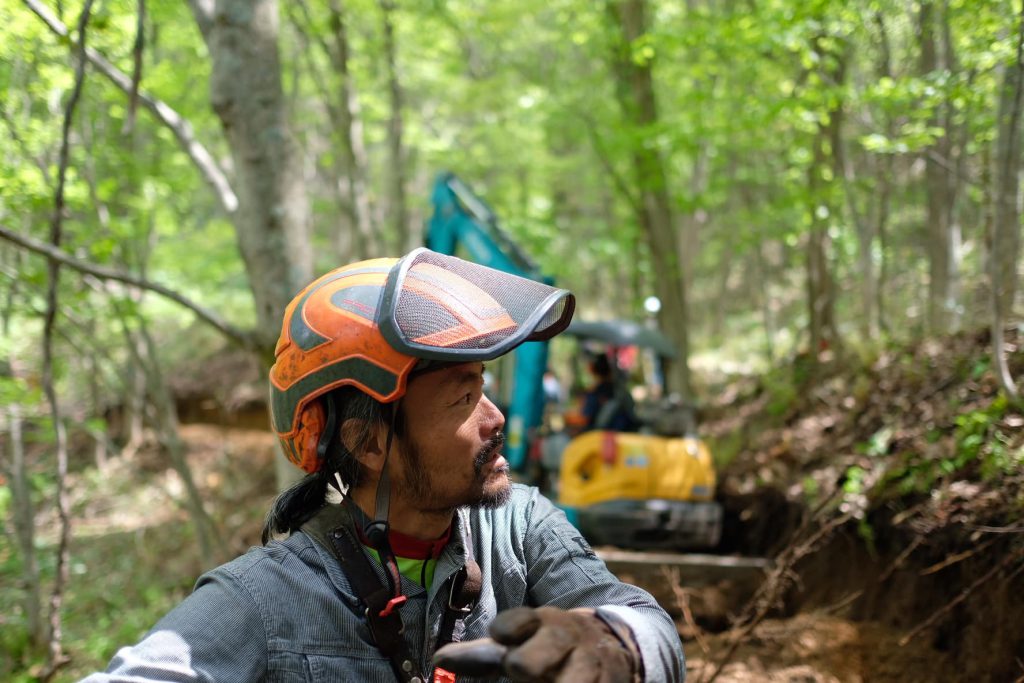 JINNOUCHI Takashi
Born 1966. After graduating from the Department of Architecture of the Tokyo University of the Arts, and joining HARA HISAHI ARCHITECT, he moved to Hokkaido where he worked for the Shimokawa Town Forest Cooperative, before founding the Hokkaido Forest Governance Research Group, and later becoming a freelance forester. In 2019 he founded Kikori Builders to connect the mountain and architecture. As of 2021 he has called to establish the "Mori to machi no gakko (School of the Forest and the City)," and promote environmentally friendly forestry as the principle.

Principal of "Mori to machi no gakko (School of the Forest and the City),"
Representative of Kikori Builders
Director, General Incorporated Foundation, Sapporo Minami High School Forest (Rikka Forest)
Part-time lecturer at Department of of Outdoor Life, Iwamizawa College, Hokkaido University of Education
Director, NPO Morinet Hokkaido

陣内雄
1966年生まれ、東京藝術大学建築科卒業。原尚建築設計事務所、北海道へ移住し下川町森林組合を経て、北海道森林ガバナンス研究会を発足する。のちフリーの林業家となり、2019年に木こりビルダーズを立ち上げ、ヤマと建築を直結する活動を開始。2021年、森と街のがっこう立ち上げを呼びかけて、校長として環境保全型林業を普及中。

森と街のがっこう校長、木こりビルダーズ代表
一般財団法人 札幌南高学校林 理事
教育大岩見沢校アウトドアライフ専攻 非常勤講師
NPO法人もりねっと北海道 理事
主催: 東京藝術大学大学院美術研究科グローバルアートプラクティス専攻、東京藝術大学美術学部彫刻科、美術学部工芸科、美術学部建築科

Organized by: Global Art Practice, Graduate School of Fine Arts at the Tokyo University of the Arts, the Department of Sculpture, the Department of Craft, and the Department of Architecture